About us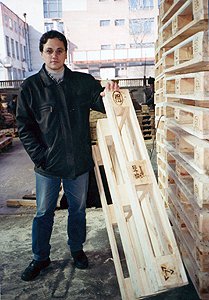 Our company was fed up 1998, from the very beginning we produced different joiner's items including wooden pallets.
In 2003 the firm "Palet-expert" has been created which specialized in production of new wooden pallets and also sold used pallets.
Now our company is the one of the most progressive manufacturers of wooden pallets in Ukraine.
Capacity of our production sector equipped with the modern Italian tools.
Using up-to-date equipment allows us to produce high quality pallets, suitable for use in any types of the automatic packing equipment. And large scale of production allows us to sell pallets on competitive price.
Production of pallets is not the only our priority. We always in process of making our distribution network of used pallets more extensive. Second use of pallets make possible to save more woods recourses and less demand to the environment.
The considerable part of our production is exported to the Germany, Czech republic, Belgium, Italian and Russia. Many Ukrainian firms buy our pallets for export of their production to these and other countries. The main goal of our company is to save leading positions in our country and widening the market sector. That's why we make a stress on the quality of our production of new and used pallets at low price.